Inspiration
Interior design is inarguably a creative profession as much as it is also based on practical factors such as logic and ergonomics.  To stoke the flames of creativity, I find inspiration to be essential.  What better place to find inspiration on a frigidly cold day than MoMa?
There are many interesting exhibits and classic works to be seen such as this massive Monet Water Lillies tryptic.  While I've seen it in books and replicated a million times, it is a completely different experience to stand in a huge room surrounded by  the original!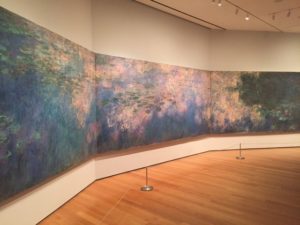 But on the top floor….111 articles of clothing/accessories are on display to answer the question Is Fashion Modern? One can look at the photos online to get an idea of what's incorporated into the exhibit, but what cannot be described in photos is the emotion I felt as I walked an aisle of coveted fashion from the 80s.  I could even hear the songs in my head that went along with the time frames represented by the articles on display.  Swatch watches transported me to Belinda Carlysle and Tiffany, bamboo earrings to LL Cool J, Adidas Superstars to RunDMC, and Philippe Starck's LBD to George Michael.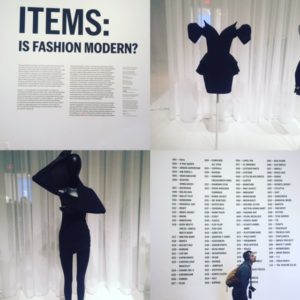 This sense of  being mentally transported to a different time, with fond memories, and the element of surprise were what left me feeling inspired.  Hints of these colors and styles will find their way into my work.  I'm excited to also contemplate the idea that when a creative person is doing what she/he does best, they may not be aware that they are designing a product (or a space) that will conjure up emotions for the people who will use it.  There is something very beautiful about that and makes me love what I do for a living even more!
Happy New Year!